Wednesday, April 29, 2009
Looking For A Jogging Stroller? We Compare 7 Different Options
---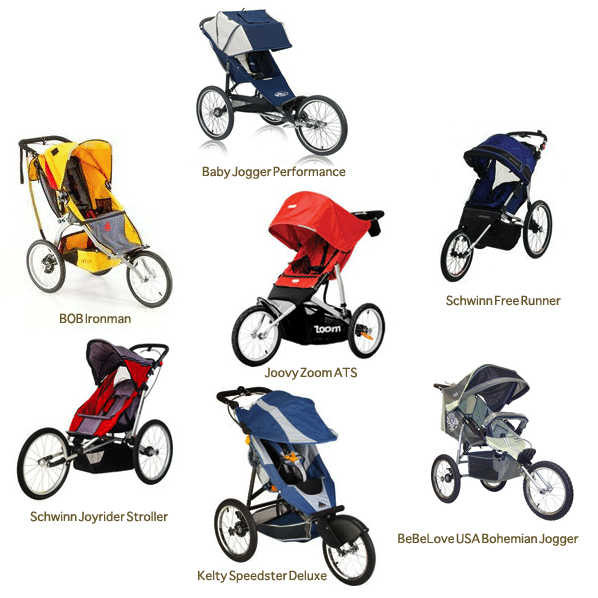 Now that spring is here it is time to get out and enjoy the nice weather. Many parents do this by combining their exercise regime with their children.
Jogging with your child is a great way to get some fresh air and stay fit.
Like with most baby gear purchases, finding the right jogger can be challenging. You need to consider size, terrain, wheel size and price.
We have put together some information to help you better decide which jogger is right for you.
Here are some jogging stroller facts:
Wheels: A real jogging stroller will have 3 wheels that resemble a bicycle, but they can come in many different sizes
20" Wheels: frequent running/off-road use. Larger wheels offer superior glide, less resistance and easier curb and bump handling.
16" Wheels: frequent jogging/walking with light off-road use. A best bet for most users, great glide and usability. They can handle anything from walking around town to running on a dirt path with no problem.
12" Wheels / Swivel Wheels: walking and around town. They offer superior maneuverability and great improvements over traditional strollers with tiny plastic wheels. They also take up less room in the back of your car when the wheels are left on.
Shocks or Suspension - Shocks are recommended for off-road use and rugged terrain. They aren't necessary because most manufacturers have accounted for shock absorption when designing and building their strollers. If you will be strolling out on bumpy roads then you should consider shocks.
Alloy vs. Steel Wheels - Currently Aluminum Alloy wheels are the trend. Even though most strollers come standard with them, you may come across Steel wheels when manufacturers are trying to cut costs, and a stroller's price usually reflects this. Alloy wheels won't rust, and are a great in climates where rusting is an issue like marine environments, coastal areas, mountain zones, and areas with snow and road salt). Another plus: alloy is lighter in weight.
ASTM Certification - When you see an ASTM Certified* product jogging stroller, you know that it meets the most rigorous standards set by the jogging stroller industry. Undergoing ASTM testing and meeting the set standards is voluntary, done so at the expense of the company, and not required by any government or commercial body. Because ASTM standards are the highest anywhere, any product that meets or exceeds them is certifiable as an item of the highest possible quality.
Tips for the Safe Use of Jogging Strollers:
Use a well-built jogger that has good shocks and is not lightweight. Do not substitute a cheaper price for less stability.
Consider you child's age before you buy. It is not advisable to take children under 6 months old out in joggers.
Adjust the handlebar to your height before you take the stroller out to insure you are as comfortable (and stable) as possible.
Take a practice run or two without the child in the jogger to get a feel for the handling of it and to make sure you can turn and stop it without any trouble. Remember, it will be heavier and carrying something very important; you'll want to be able to maneuver it easily.
Strap your child in with the full harness. You want them as safe as possible and if you have to stop suddenly, you don't want them to fall out or even get shaken. Also you don't want them to be able to reach out and get their fingers tangled in the wheels.
Never take your hands off the stroller. They are made to need little to no resistance to make them move, so that running with them is easier, but this causes them to move if you let go. Rogue strollers can be very hard to catch and very unsafe for your child.
Stick to smooth surfaces if your child is not a year old yet. This will lessen the amount that the child is shaken while running.
Be in control of your jogger. Make sure that you are never going so fast that you cannot stop the jogger if needed. Remember, the brake is for parking, not for stopping during a run. It is the runner's responsibility to use momentum in such away that they can control the jogger.
Use your runs to your advantage. If you run right before nap time, the rhythmic sound of you running may put your child to sleep, which can be a nice bonus of your runs.
Increase the comfort of your child by shifting them to different positions during the run. This is especially important in very young children who cannot rearrange themselves.
Don't expect your child to sit still for the duration of the run. For toddlers and older, it is a good idea to allow the child to get out and play for a bit during the run, especially if they seem restless. This will increase their enjoyment and comfort on the run.
We have put together a comparison chart of 7 popular Jogging Strollers, all with different features and price points:
---
Labels: Baby Jogger Performance Series Jogging Stroller, BeBeLove USA Jogging stroller, BOB Ironman stroller, Jogging Stroller, Kelty Speedster Deluxe Stroller, Schwinn Free Runner Jogging stroller
posted by Growing Your Baby at
4/29/2009 12:25:00 pm