Tuesday, June 30, 2009
Sarah Jessica Parker & Matthew Broderick Introduce Their Twins!
---
Excited new parents Sarah Jessica Parker and Matthew Broderick have released a photo introducing the newest additions to their family.
Tabitha and Marion arrived weighing 6 pounds and weighed 5 lbs., 11 oz., by surrogate last Monday.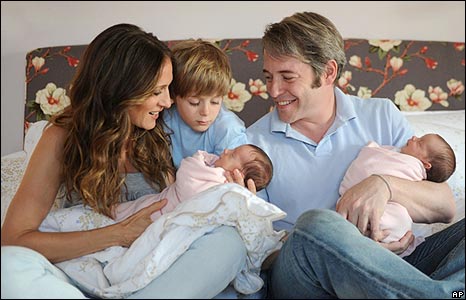 PHOTOCREDIT:AP Photo/Robin Layton
---
Labels: Celebrity Babies, celebrity twins, google, james Wilke Broderick, Marion Loretta Elwell Broderick, Matthew Broderick, Robin Layton, Sarah Jessica Parker, Tabitha Hodge Broderick
posted by Growing Your Baby at
6/30/2009 09:11:00 am