Sunday, July 12, 2009
Jon Gosselin Vacations In St. Tropez With New Girlfriend
---
Newly single dad of 8, Jon Gosselin surprised many when he turned up in St. Tropez yesterday with rumored girlfriend, Hayley Glassman, 22(the daughter of Kate's surgeon).
The pair spent the afternoon enjoying champagne and posing for photos aboard Christian Audigier's yacht.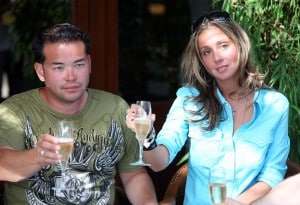 ---
I feel bad for Kate. She's strapped with 8 kids while her hubby tours around France with his younger new girlfriend. This is definitely not the family I fell in love with.
---
Labels: Christian Audigier, Hayley Glassman, Jon and Kate Plus 8, Jon Gosselin
posted by Growing Your Baby at
7/12/2009 12:26:00 pm