Monday, March 22, 2010
Blindmice Socks: Intentionally Mismatched Socks…Brilliant!
---
In our house socks just don't stay in pairs – the dog runs off with one, one sprouts a hole before its mate, or one just goes mysteriously missing even if both were put into the laundry basket. Socks just do not stay together. To remedy this situation Blindmice socks have created a truly individual collection of socks. Socks are sold in sets of 3 or 5, and although all are in coordinating colors and designs, each sock is different. Losing a sock is no longer a problem!
Not only are Blindmice socks totally cute, but they are made in such a way that the fit is incomparable. The toe seam is virtually nonexistent, the tops are non-binding to avoid the red marks often left by baby socks, and a well-constructed heel pocket keeps the socks firmly on baby's feet. All these features lead to a comfy little sock that stays in place, which in itself makes for a fab sock, as I am sure that we have lost at least one because it simply slipped off!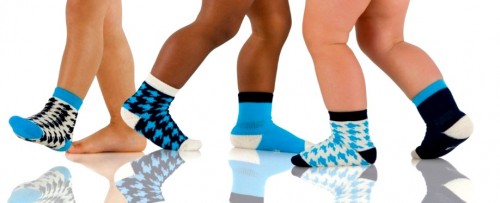 Blindmice socks – brilliantly constructed, intentionally mismatched, totally funky!
---
Labels: unique children's products
posted by Growing Your Baby at
3/22/2010 03:27:00 pm