Thursday, March 04, 2010
Kaiku Products are Beautifully Designed and Eco Friendly
---
Kaiku (Japanese for 'to grow'), is a product line from the California based design studio of Scot and Amy Herbst. The collection is inspired by their "love of modern design and dedication to keeping kids active, healthy and hip."
Kaiku products are designed to be timelessly beautiful. The meticulous attention to detail means these products are of heirloom quality. Cherish them for decades or pass them on, these products are meant to stand up to years of use.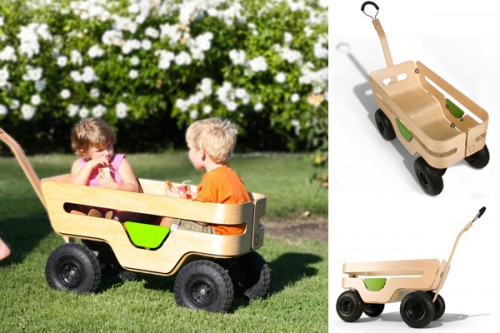 All of the products in the collection are made with health and eco consciousness in mind. They are constructed from formaldehyde free Baltic birch, steel and natural rubber. All their finishes are safe and non-toxic.
Good design is the hallmark of the whole collection. The Zen super wagon(pictured above) is made to be comfortable for both the child riding in it and the adult pulling it along. The ergonomic handle features a soft EVA foam grip and a patented QuicKlik magnetic handle catch. The air-filled tires make for a smooth ride. Weather and corrosion resistant hardware mean the wagon should last for years.
The PushPull and StrollKart rolling toys both feature the same quality construction and good design. Their non-marking, soft-urethane wheels mean that kids can play to their heart's content, without ruining the floor.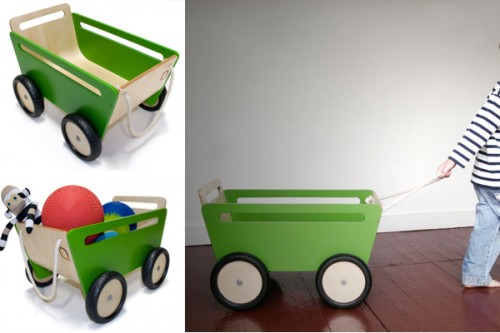 The Herbst family uses Kaiku products themselves every day. All of the products meet or exceed applicable ASTM and CPSC requirements. They use only water based solvents, paints and lacquers. Kaiku has the European E-1 distinction for component air quality.
Kaiku products are a smart, responsible choice for good health, active living and a healthy environment. - Jen R, Staff Writer
---
Labels: eco-friendly toys
posted by Growing Your Baby at
3/04/2010 05:44:00 pm