Sunday, March 28, 2010
Nadya Suleman Packs Up Her Kids and Heads To The Park
---
Armed with the help of a nanny, Nadya Suleman packed up 7 of her octuplets and 2 of her older kids and headed to the park.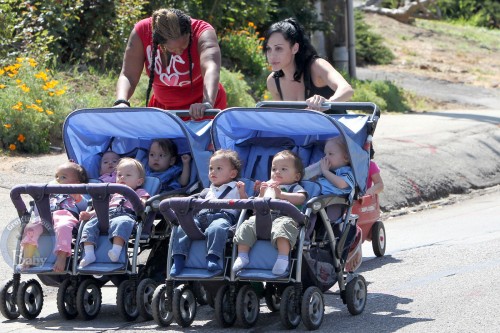 In order to help with her financial problems Nadya recently accepted PETA's offer of $5,000 and a month's supply of vegan hot dogs and hamburger patties for her family of 15 in exchange for allowing the animal-rights group to place an ad on her lawn.
The ad which shows a mother cat nursing a litter of young kittens reads "Don't let your dog or cat become an 'octomom'. Always spay or neuter. PETA."
---
The babies ride in a Foundations Quad Stroller ($400)
{PACIFIC COAST NEWS}
---
Labels: Multiple Births, Nadya Suleman, Nanny, Octuplets, PETA
posted by Growing Your Baby at
3/28/2010 11:10:00 pm