Tuesday, May 18, 2010
Julie Bowen Shows How She Breastfed Her Twins! (PHOTO)
---
During a recent appearance on George Lopez Modern Family's Julie Bowen showed off a photo of how she saves time - by breastfeeding both of her twins at the same time.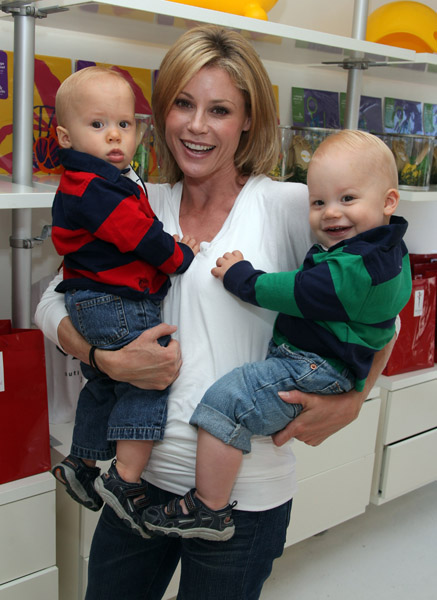 As viewers saw the picture, she explained:
"It's like two little liposuction machines on you. They suck the fat out of you. They call it the 'double football hold'. You hold one here, and here [gesturing to her breasts], like two footballs." She joked: "[This is] the end of my career. They're doing God's work right there - helping me return to my birth weight."
John and Gus, Julie's twins, recently celebrated their first Birthday at The Coop in Studio City, Calif. The party was organized to raise money and supplies for Baby2Baby, a charity founded in 2006 by Marnie Owens, Lee Michel and Karis Jagger (Mick Jagger's daughter) that donates gently used baby items to families in need.

Related Articles:
{SPLASH, WIREIMAGE}
---
Labels: Breastfeeding twins, celebrity twins, Julie Bowen
posted by Growing Your Baby at
5/18/2010 04:44:00 pm