Wednesday, July 28, 2010
The trioBike ~ The Perfect Solution For The Urban Family!
---
The trioBike is another incarnation of the bicycle plus child carrier, but instead of a trailer being pulled behind the bicycle, in the trioBike the carrier is in front and part of the bicycle. The trioBike adds another dimension in family transportation, as the carrier can easily be removed to allow the carrierbike to be transformed into a bicycle and separate stroller.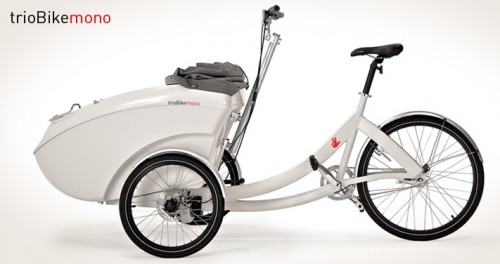 The carrier portion comfortably fits two children up to 9 years old. Seats are padded in a stain resistant fabric and a 5-point safety harness keeps children secure. A wind, sun, and rain resistant hood with large viewing window in the front and back can be unfolded to shield kids from inclement weather, or collapsed back for milder days.
The bike portion features an aluminum frame with integrated cable run, built in white light diodes on the handle-bar and red light diodes on the back of the seat and Shimano nexus 7 speed gears. The front wheel for the bicycle is conveniently stored under the carrier portion, making disassembly from carrierbike to single bike and stroller easy. The bicycle is also sold separately, enabling a couple to each have their own bike, and the carrier portion can be switched between the two! Also available is the trioBike mono, which is solely a carrierbike.
Passing stringent safety standards and incorporating sleek Danish design the trioBike is the latest in family bicycle transportation! - Jill, Staff Writer
Related Articles:
---
Labels: Family
posted by Growing Your Baby at
7/28/2010 01:02:00 am