Tuesday, August 10, 2010
Japanese Monkey Pants ~ Monkeying Around Just Got Easier And Greener For Baby and Momma!
---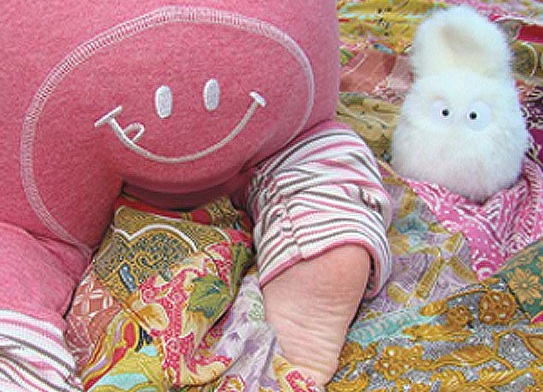 Japanese Monkey Pants, recognizable by the rounded bum panel, are a style that has long been popular in Japan. The bum panel, providing far more room that conventional baby pants, doesn't just make Momma's life easier in dressing a squirming little monkey, but the added room also makes getting around easier with a greater range of unrestricted motion. Perfect also for babies that have bigger cloth diapered bums or ones that spend their time in a carrier on Mom or Dad's back.
Not only do Japanese monkey pants make life easier for moms and babies, but the Japanese Monkey Pants imported from Japan are also free from the harmful formaldehyde sometimes found in children's clothing, making them safer for babies and the planet.
With a cute smiley face on the bum of many of the Japanese Monkey Pants, these comfy pants are sure to bring smiles to the faces of babies and their mommas. - Belinda, Staff Writer
Related Articles:
---
Labels: Fashion, Practical Baby Products, unique children's products
posted by Growing Your Baby at
8/10/2010 07:41:00 pm