Thursday, August 12, 2010
Nina's House by Dave Keune ~ A baby's house within a house!
---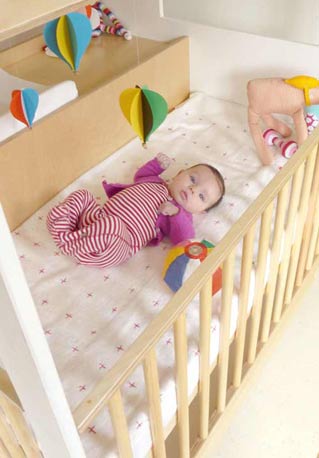 Designed with condo owners, those with small living spaces or those with open concept floor spaces in mind, Dave Keune created Nina's House. This beautiful piece of furniture combines a crib, playpen, chest of drawers and change table into one funky looking house. Sleek and stylish, all of baby's necessary bits of furniture are together so that even those with minimalist living spaces can create a separate space for the newest addition!

Cleverly designed, Nina's House is functional as well as visually appealing. The drawers can be opened and closed with a bump of the knee, so that your hands can stay busy with baby, the whole house rest on wheels so that it is easily moved, and the roof can be conveniently rolled back. To add further to the house appeal, there are fun window cut outs at the sides so Mom and Dad can peek in, and baby can peek out.

A truly unique idea for presenting all of baby's furniture in a fun, functional, space-saving and broadly appealing way! - Belinda, Staff Writer
Related Articles:
VIA KIDCRAVE
---
Labels: contemporary baby furniture, Convertible Cribs, Modern Baby, Modern Baby Furniture, Practical Baby Products
posted by Growing Your Baby at
8/12/2010 06:51:00 pm