Wednesday, September 15, 2010
Bugaboo Introduces 1st Double Stroller - The Donkey!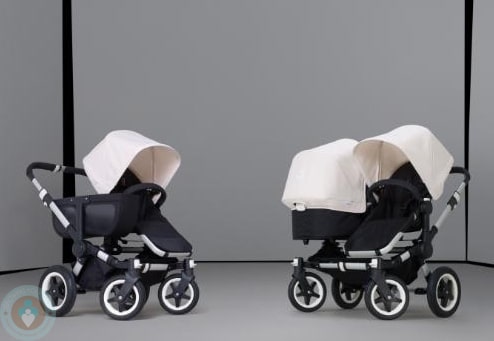 New for Spring 2011, Bugaboo will introduce the Bugaboo Donkey: the first mono-duo–mono convertible stroller for kids and goods. Featuring a one-piece fold, the Bugaboo Donkey can convert from a full-sized mono, to a full-sized side-by-side duo, and back again to a mono stroller with three easy clicks.

The Bugaboo Donkey design meets two key parental needs: increased storage space and the option to convert to a side-by-side duo stroller for parents with two younger children or twins. The increased storage space includes an expandable side shopping basket and underseat basket - allowing parents to carry all their goods on the go. In the mono configuration, the Bugaboo Donkey is 23 inches wide, the same width as the Bugaboo Cameleon. In the duo configuration, the Bugaboo Donkey is 29 inches wide, making it the narrowest (luxury) side-by-side duo stroller.

Through Bugaboo's commitment and excellence in innovation and design, the Bugaboo Donkey is the perfect stroller for your first child, your first and second child, and twins. Bugaboo is honored to introduce the first iconic convertible stroller designed to grow with your family.
The Bugaboo Donkey will be available in the US at select retailers in April 2011.
Related Articles:
Labels: Bugaboo, Double Strollers, Luxury Stroller
posted by Growing Your Baby at
9/15/2010 09:56:00 am