Thursday, October 07, 2010
Dezign with a Z ~ Glow-in-the-Dark Wall Decals
---
From glowing night sky scenes with stars, planets and the moon, to butterflies, sheep and even ghosts, these glow-in-the-dark wall decals are to sure to delight just about everyone; parents and kids alike.
Wall decals are a brilliant way to change the look of a room with minimal fuss. Especially convenient if it is a child's room you are decorating! These glow-in-the-dark stickers let you add a completely new dimension to decorating.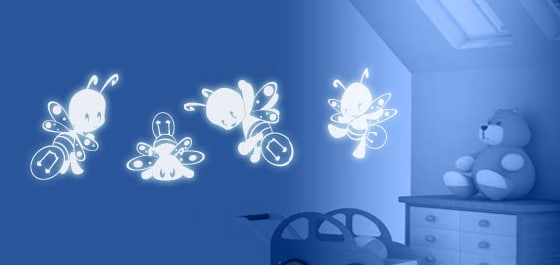 Glow-in-the-dark stickers only come in white, so with the light on, on a white ceiling or wall, they almost disappear…until the lights are turned off that is!
So whether it is a tree with curling branches, ethereal glowing lily pads, glow bugs, jumping sheep or of course a smattering of stars on the ceiling that your child would like for her "in the dark" room decorations, 'Dezign with a Z' has you covered with their glow-in-the-dark decal collection! - Belinda, Staff Writer
Related Articles:
Mae Creates Delightful, Reusable Fabric Wall Stickers!
Better than Wallpaper: Domestic Offers Unique and Quirky Wall Art
Wee Gallery Wall Graphics – Funky Baby Art
Labels: bedroom wall designs
posted by Growing Your Baby at
10/07/2010 06:54:00 pm