Saturday, November 06, 2010
Bombol Bamboo Baby Rocker ~ Smart, Modern and Ingenious!
---
Nominated for the 2010 Innovation Award at the Kind + Jugend Show, the smart new baby rocker by Italian brand Bombol is certain to impress.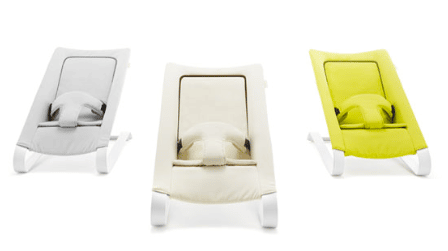 The Bamboo features a patented dynamic backrest (DBR) that adjusts as the baby shifts her weight, thereby allowing the baby to change her position regularly and remain comfortable! The backrest can also be manually adjusted into one of three main positions; the position for sleep, resting or sitting. Adjustments are easily done behind the backrest, without needing to remove or disturb a sleeping babe.

A removable safety harness allows the rocker to easily be converted into a lounging chair for toddlers - a small detail that increases the life of the chair. The unique 3D curve of the aluminum frame allows for controlled bouncing even with the smallest movements, yet because weight is so evenly distributed even more vigorous bouncing by a toddler is not a problem.

The Bamboo baby rocker by Bombol is available in three smart, modern colors and is the perfect addition to a minimalist household. No word whether it will makes it's way to North America, but we're sure it would be popular. - Belinda, Staff Writer
Related Articles:
Labels: Baby Bouncers, baby gear, Modern Baby
posted by Growing Your Baby at
11/06/2010 11:55:00 pm