Sunday, October 09, 2011
Jessica Alba and Cash Warren Brunch With Their Girls!
Just a day after debuting their newest addition to the world, Jessica Alba and Cash Warren were spotted out for brunch at Dominick's restaurant in West Hollywood Los Angeles, California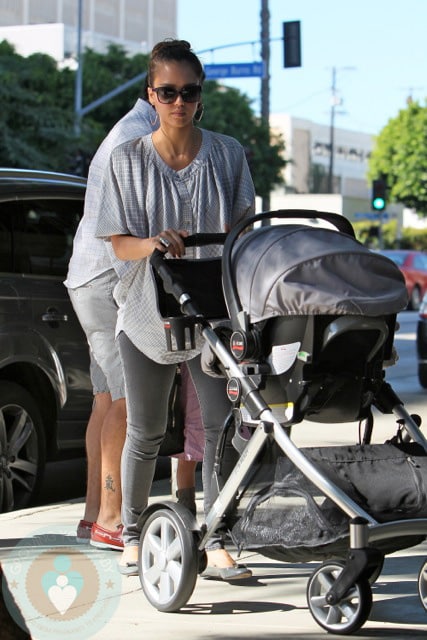 During her interview with People Magazine Jessica revealed that Haven's birth was the inspiration for her name. The infant was born in the caul, or in the amniotic sac. Father Cash stated after the birth, "She was born in her safe haven."

For her first outing, the newborn stayed safe in her infant seat.

While dressed in a cute pink sundress and a pair of boots, big sister Honor showed off her hand tattoo and fancy ring.

Jessica pushes a Britax B-Ready stroller with a Chaperone infant seat.

---
{WENN & INFphoto.com}

Labels: Britax Chaperone, Cash Warren, Celebrity Kids, Honor Marie Warren, Jessica Alba
posted by Growing Your Baby at
10/09/2011 06:38:00 pm