Wednesday, October 07, 2009
Kid Tested: Daisy Greenway Interactive Camper
---
---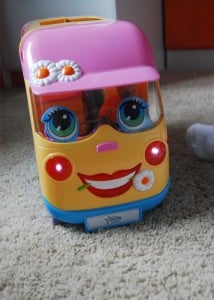 Even though camping season is coming to an close, it doesn't mean the outdoorsy fun has to end.

Caring Corners has followed up their hugely popular play house Mrs. Goodbee with a personable camper named Daisy Greenway($35). This bright pink, interactive play mobile features a pull-out cabin with bunk beds and a movable slide, a restroom, a kitchen with recycling bins and a dog feeding station, a pull-down TV, removable captain's chairs, and a flip-down grill.

As soon as Daisy arrived in the mail my son immediately went to work and within just a few minutes he had figured out every feature she was loaded with. Along with the camper, we also received a couple family members(not included), who proved to be perfect for role playing.

The nice part for for us was that both our boys (1 aged 4 and 1 – 8months) played together with Daisy for quite some time. This was the first time we had ever seen the two of them share a toy and not fight.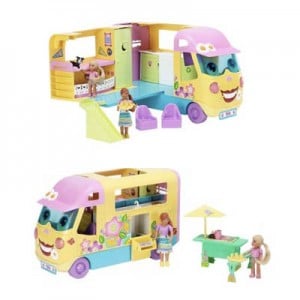 Even though our little testers were not of the genders the camper was created for, all of the basic principles still applied. Many of Daisy's features could work for boy action figures as well as a family or small-ish Barbies.

I like that some of the characters created for this toy promote some sort of wellness; Dad is walking the dog, a teenage daughter is shopping with a recycled bag and there is even a tandem bike with a trailer on the back to tote little ones. They normalize activities we should all do, but don't always get to.

Also available for the Caring Corners interactive toys are a grandma baking cookies, a baby in a highchair and a mom hauling groceries in a shopping basket.

Just like Mrs. Goodbee, the rearview rewards panel on the back of the camper rewards eco-friendly behavior. Kids can earn stickers by doing simple activities like, turning off the water while they brush their teeth, packing a trash-free lunch, turning off the lights when they leave a room or helping you plant a garden.

As with anything, my son's playtime came with future recommendations. Three things he would like to see changed are to have the drive/passenger doors open, to have the hat come off and for Daisy to come in a Blue (without the flowers)!

Regardless of her color, this interactive camper offers enough play options to keep kids busy for hours. Sometimes my guys love to just sit and push her horn to hear her ask questions and watch her lights flash.
More information about Daisy is available at learningcurve.com


*This Product was sent to us by Learning Curve for review.*




---
Labels: Caring Corners
posted by Growing Your Baby at
10/07/2009 12:10:00 pm